Xerox and Brother are brands with reliable machines and a history of customer satisfaction, a major reason why you see their names on almost any list of major printer manufacturers.
If you're looking to narrow down your choices, though, Xerox offers more variety in the types of workgroups their machines are built for, and while Brother does have options for medium and large-sized businesses, their catalogue will mostly be for smaller workgroups.  
So, which brand do you go with for your next office solution?
That's entirely up to you: we're not going to sit here and say Xerox is the better brand for everybody because we sell their machines.
As depicted in the printer model comparison, the right machine for you may not be the right machine for someone else. It's entirely dependent on your situation—primarily volume and budget—and which company's features you align with the most.
Brother will be the cheaper option, but there's an evident explanation for that. As mentioned previously, Brother has a product catalogue largely built for small workgroups, while Xerox has machines that are tailored to all workgroups, and thus, their catalogue of machines will be more expensive.
So, comparing the overall price of one brand's printer to the other wouldn't be accurately conclusive. But what we can do is compare two similar printer models built for smaller workgroups to give you a better idea of pricing when there are competing products.  
Efficiency and volume are two of the fundamental factors that go into the pricing of a printer, which is primarily why the Xerox machine is priced higher than the Brother model.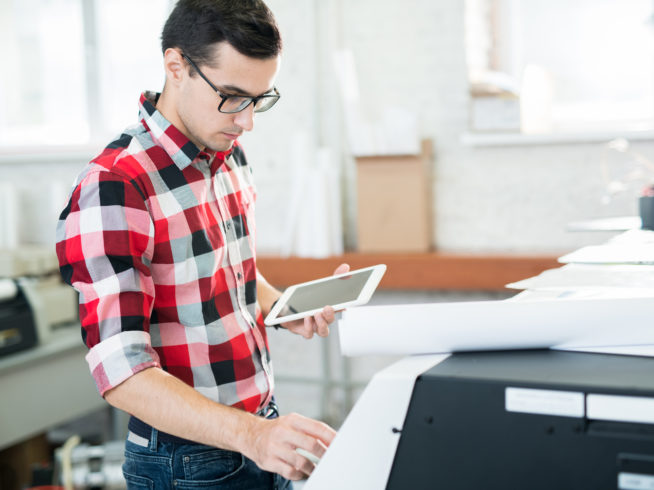 Brother MFC-J6947DW
The Brother MFC-J6947DW might look a little ungainly in the plastic, as it were, but given its ability to handle A3 paper, it's actually quite compact. In fact, by overhanging a few inches at the front to accommodate its tabloid-sized scanner bed, the footprint is more like that of an A4 printer. You can load A3 sheets in any or all of the three drawers, but they won't push all the way back in when loaded, so it's never going to look very neat on your desk. Brother supports the X-Series printers with an optional wheeled cabinet if you prefer to turn it into a freestanding form factor, with somewhere to keep your consumables.
The central control panel tilts conveniently and features a large 9.3cm colour touchscreen alongside a numerical keypad which together make this printer very easy to access. There's a front USB port for printing from a flesh memory drive, while the rear USB port, along with the Ethernet port is located under the scanner bed with clever cable management to guide the cables out of the back of the machine. This means nobody can accidentally unplug it.
Xerox WorkCentre 6515
The WorkCentre 6515/DN isn't the largest we have in the lab right now, but it's the heaviest by far.
The specs say it weighs darn near 68 pounds, and it took two of us to awkwardly wrestle it out of the box and onto a table. Guess four laser drums and the machinery to keep them registered for quality printing require some heft, especially since the printer is rated for a recommended 3,000 pages per month but can handle up to 50,000 pages in that time period.
Setting up client printing was a snap: With the drivers installed and the 6515/DN plugged into the network, we just picked the printer from the list Windows provides and we got pages. (Many operating systems are supported, including Mac OS and multiple Linux variants, and even IBM AIX and HP-UX.) When the unit is warmed up, the page appears in about a dozen seconds. When on standby just over double that, which is good for a laser from a cold start.
If you plan to get copiers for your office in Houston, you can opt to buy copiers or lease copiers in Houston. We can give you the option to get the copier that you want. You can contact our local copier leasing services department in your location.
If your Location is around Houston, you may call us at (713) 322-0123, and our personnel for copier leasing in Houston will assist you. If you are also looking for copier repair services in Houston, you may contact our copier repair personnel at the same number.