Effective tools and equipment are essential for maximizing productivity in any workplace. When it comes to office equipment, a reliable printer copier can play a significant role in streamlining workflows and improving efficiency. From printing and copying important documents to scanning and sending digital copies, a high-quality printer copier can handle a variety of tasks and help your team get them done. 
However, using outdated or faulty equipment can lead to frustrating delays and wasted time. Investing in the right printer copier can save your business valuable resources and help boost productivity in the long run. 
Here are a few ways that the right device can boost productivity in your office.
Multitasking
Having a modern printer copier can greatly improve the efficiency and productivity of your office by allowing your team to multitask and handle multiple tasks at once. These multifunctional copiers can not only handle printing and copying, but also offer the ability to scan, fax, and email documents all in one place. By investing and leasing a high-quality, multifunctional printer copier, you can improve your team's productivity and save valuable time and resources.
Cloud-Storage Sharing
In addition to providing the ability to share and access digital copies of documents, multi-functional printers often have features that allow remote access to files. With the ability to access and share files remotely, employees can collaborate and work efficiently from any location, eliminating the need to physically transfer hard copies. Investing in a printer with remote access capabilities can help your business reduce its environmental impact and increase productivity.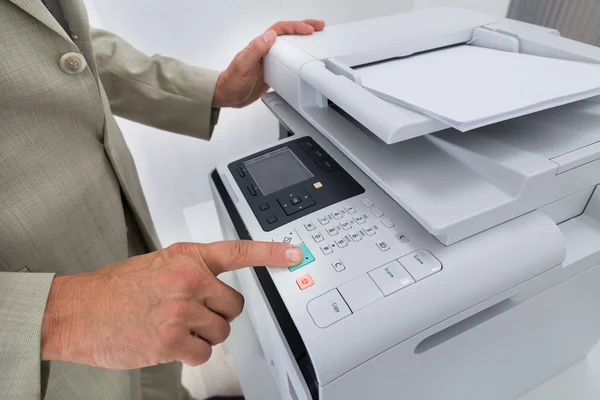 Searchable Scanned Document
Copier leasing can also enhance productivity by providing searchable and editable scanned documents. By converting scanned documents, PDF files, and other images into text that is searchable and editable, organizations can easily find and access important information, preventing the loss of data and improving file management efficiency. If you are about to lease a copier, make sure that the machine has this feature.
Mobile Printing
Modern printer copiers offer a range of connectivity options that can greatly enhance productivity in today's digital workplace. With the ability to scan, copy, fax, email, and even print wirelessly from a smartphone or tablet, these multifunctional devices allow employees to access and print important documents from any location. By leasing a printer copier with strong connectivity features, you can improve your team's ability to collaborate and work effectively from anywhere.
User-Friendly Copiers
To ensure that your copier or printer is contributing to productivity in your office, it is important that it is easy to use and intuitive for your employees. At Clear Choice Technical Services, we can help you find copiers and printers with user-friendly features that are similar to those found on smartphones and other mobile devices. This can help your team quickly and efficiently print documents without the need for technical support, allowing them to focus on their tasks and responsibilities
Looking to Lease a Multi-function Copier in Houston? We can help!
If you plan to get copiers for your office in Houston, you can opt to buy copiers or lease copiers in Houston. We can give you the option to get the copier that you want. You can contact our local copier.
If your Location is around Houston, you may call us at (713)322-0123, our personnel for copier leasing in Houston will assist you. If you are also looking for copier repair services in Houston, you may contact our copier repair personnel at the same number.
To improve productivity and efficiency in your business, consider investing in a modern printer copier with advanced features like searchable and editable scanned documents, wireless printing, and strong connectivity options. By taking advantage of these underutilized capabilities, your company can streamline its workflows and focus on its core operations.